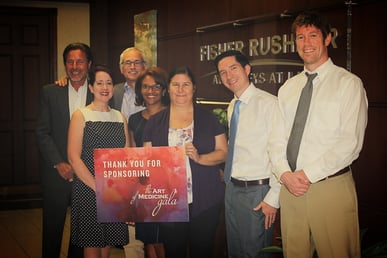 On October 20, 2017, the attorneys and employees of Fisher Rushmer, P.A. enjoyed a wonderful night of art and ballet as they helped sponsor and support the care and research for patients with Traumatic Brain Injuries.
Presented by The Collage Companies and First GREEN Bank, the proceeds from the gala benefited the University of Florida TRAuma, Concussion and Sports Neuromedicine Program (UF TRACS).
Over $300,000 Raised to Help Traumatic Brain Injuries
The event was a huge success, raising over $300,000 for this critical research.
Inspired by Cindy LaRoe, MD, who is a survivor of a traumatic brain injury herself, the sold-out event included unique tasting stations, organic beer and wine, a performance by the Orlando Ballet, guest speakers, and of course, the beautiful art of several artists.
Prior to her accident, Cindy practiced medicine in Lake County Florida as an internist and was also a championship-caliber cyclist.
However, the brain injury that was the result of a devastating accident ended her career as both a medical doctor and a competitive cyclist.
Painting and Art Helped With Brain Injury Recovery
Cindy began painting as a way to help recover from her accident, and has become a very accomplished painter. In order to use her talents to help others in her situation, she and her husband, Ken LaRoe, founder and chairman of Orlando-based First GREEN Bank and CEO of First GREEN Bancorp holding company, formed the Art of Medicine philanthropy to support brain injury research and treatment.
Fisher Rushmer, P.A. was honored to be a part of this important philanthropic gala. Started in 2015, the Art of Medicine Gala has been a wonderful way to help raise money and awareness for traumatic brain injuries.
Guests were able to bid on beautiful art from 5 featured artists in a live auction, and also on art from 20 other talented artists in a silent auction, while learning more about the science and research around traumatic brain injuries.
Speakers Included Renowned Experts on Traumatic Brain Injuries
Guests had the opportunity to hear from Michael S. Jaffee, MD, who led the Defense Department's brain injury program and served on a team of elite doctors that changed the military's stance on brain trauma.
In addition, they were treated to Steven DeKosky, MD, who co-authored the first reports of chronic traumatic encephalopathy (CTE) in American pro football players, which was portrayed in the major Hollywood movie "Concussion."
Fisher Rushmer, P.A. Is Committed to Helping Others
Fisher Rushmer, P.A. is committed to helping its community by sponsoring and supporting a variety of events and charities.
In addition to sponsoring the Art of Medicine Gala, Fisher Rushmer also recently sponsored the Central Florida Association for Women Lawyers' (CFAWL) annual Judicial Reception on November 8. The CFAWL helps facilitate women's opportunities and rights while expanding the leadership role of its members in the community at large.
Attorneys at Fisher Rushmer have also been recognized for their pro bono work, providing legal assistance to people who could not otherwise afford legal counsel.
Learn More
Contact the attorneys at Fisher Rushmer, P.A. to find out how its award-winning trial lawyers can help you when you need legal counsel.