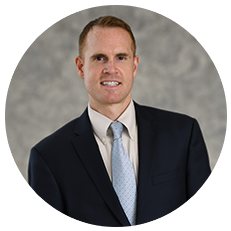 Eric R. Elms, of Fisher Rushmer, P.A. in Orlando, has served as an elected governor of the Young Lawyers Division Board for The Florida Bar for the past four years. He is one of three elected governors from the Ninth Circuit. Recently, Elms was re-elected for a two-year term and will be sworn in to serve June 2017 at The Florida Bar's Annual Convention.
The purpose of the Young Lawyers Division of The Florida Bar is to:
• Assist The Florida Bar in its purposes
• Encourage interest in and participation in The Florida Bar
• Offer activities and projects designed to interest and assist division members
• Coordinate activities and serve as a medium for fostering discussion and free interchange of ideas relative to the duties, responsibilities, and problems of division members
• Enhance the image and reputation of the legal profession and The Florida Bar
• Serve the public, particularly those outside of the legal profession, through state-wide and local community projects and activities
"The young lawyer population continues to grow in Florida, and with that growth comes added issues and responsibilities for myself and my fellow governors to address. I am honored to serve another term to analyze these issues and responsibilities on behalf of our hard-working, committed constituents" said Elms.
Elms joined Fisher Rushmer, P.A. as an Associate in 2011. He practices primarily in the areas of personal injury, insurance defense, and employment litigation. As a former claims manager for a Fortune 200 company, and now a civil trial attorney, Elms has handled insurance matters from start to finish. Elms has also been listed as a Rising Star in the area of Civil Litigation Defense since 2015, and has been routinely recognized by the Florida Supreme Court for his pro bono work since 2014.
About Fisher Rushmer, P.A.
The Orlando law firm of Fisher Rushmer, P.A. has been providing quality legal advice and services to clients in Central Florida and throughout the entire state since 1984. At Fisher Rushmer, P.A., clients are served by attorneys, not case managers, so you will receive the highly-skilled representation that you need in a cost-conscious manner. Recognized for excellence year after year, Fisher Rushmer, P.A. continues to be a top-ranked law firm throughout Florida, providing the resources of a large law firm with the personal touch of a smaller firm.