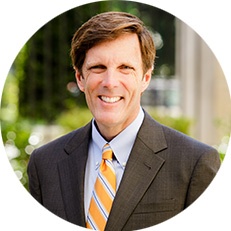 Joseph L. Amos, Jr., of Fisher Rushmer, P.A. in Orlando, has been an active member of the Central Florida Chapter of the American Board of Trial Advocates (ABOTA) since 2010. Joe has served in various officer positions in recent years, and was named President for 2017.
ABOTA's missions include:
Helping to preserve, and educate citizens about, the right to civil jury trial
Promoting the efficient administration of justice and independence of the third branch of government, the judiciary
Elevating the standards of integrity, professionalism, civility and courtesy in the legal profession
Advancing the skill of its members as trial attorneys
"We're excited about the upcoming year. We held a successful February meeting where we inducted 8 new members. Our May meeting speaker will be former U.S. Senator Mel Martinez, who is a founding member of the Central Florida ABOTA Chapter," said Amos.
Having joined Fisher Rushmer in 1990, Amos is a shareholder, and concentrates his practice in catastrophic personal injury, professional and product liability, and business litigation. He is a Florida Supreme Court Certified Circuit Court Mediator. He has been included in the U.S. News & World Report Best Lawyers In America for Professional Malpractice Law, Commercial Litigation and Personal Injury Litigation from 2012 – 2017.
About Fisher Rushmer, P.A.
The Orlando law firm of Fisher Rushmer, P.A. has been providing quality legal advice and services to clients in Central Florida and throughout the entire state since 1984. At Fisher Rushmer, P.A., clients are served by attorneys, not case managers, so you receive the highly-skilled representation that you need in a cost-conscious manner. Recognized for excellence year after year, Fisher Rushmer, P.A. continues to be a top-ranked law firm throughout Florida, providing the resources of a large law firm with the very personal touch of a smaller firm.